Your gifts will help us decorate The Basilica this Christmas with evergreen trees, poinsettias, greenery, and wreaths.
Names of those honored through flower gifts given by Thursday, December 14 will be listed in the Christmas leaflets.
Select the Gift Designation of Christmas Flowers.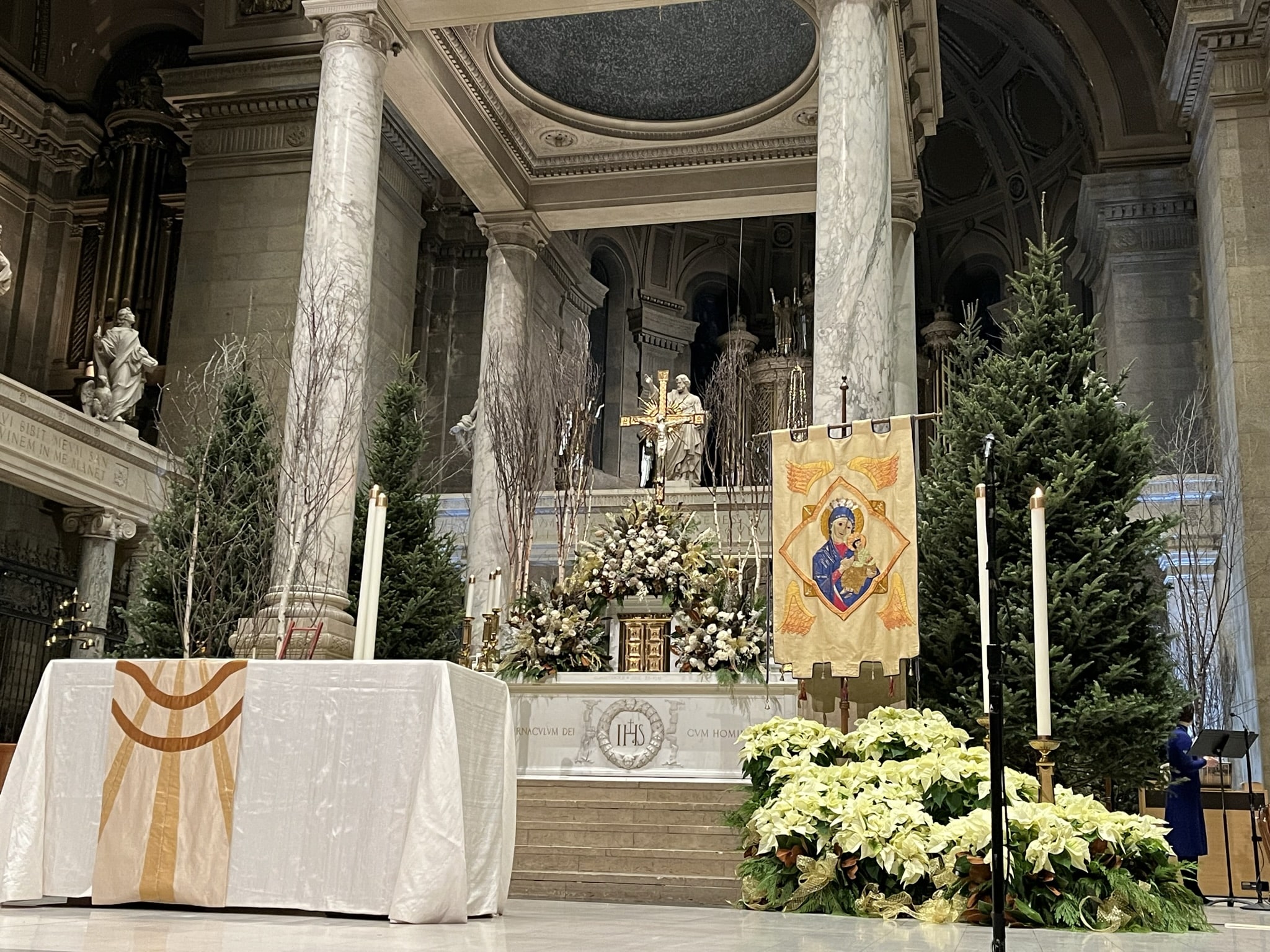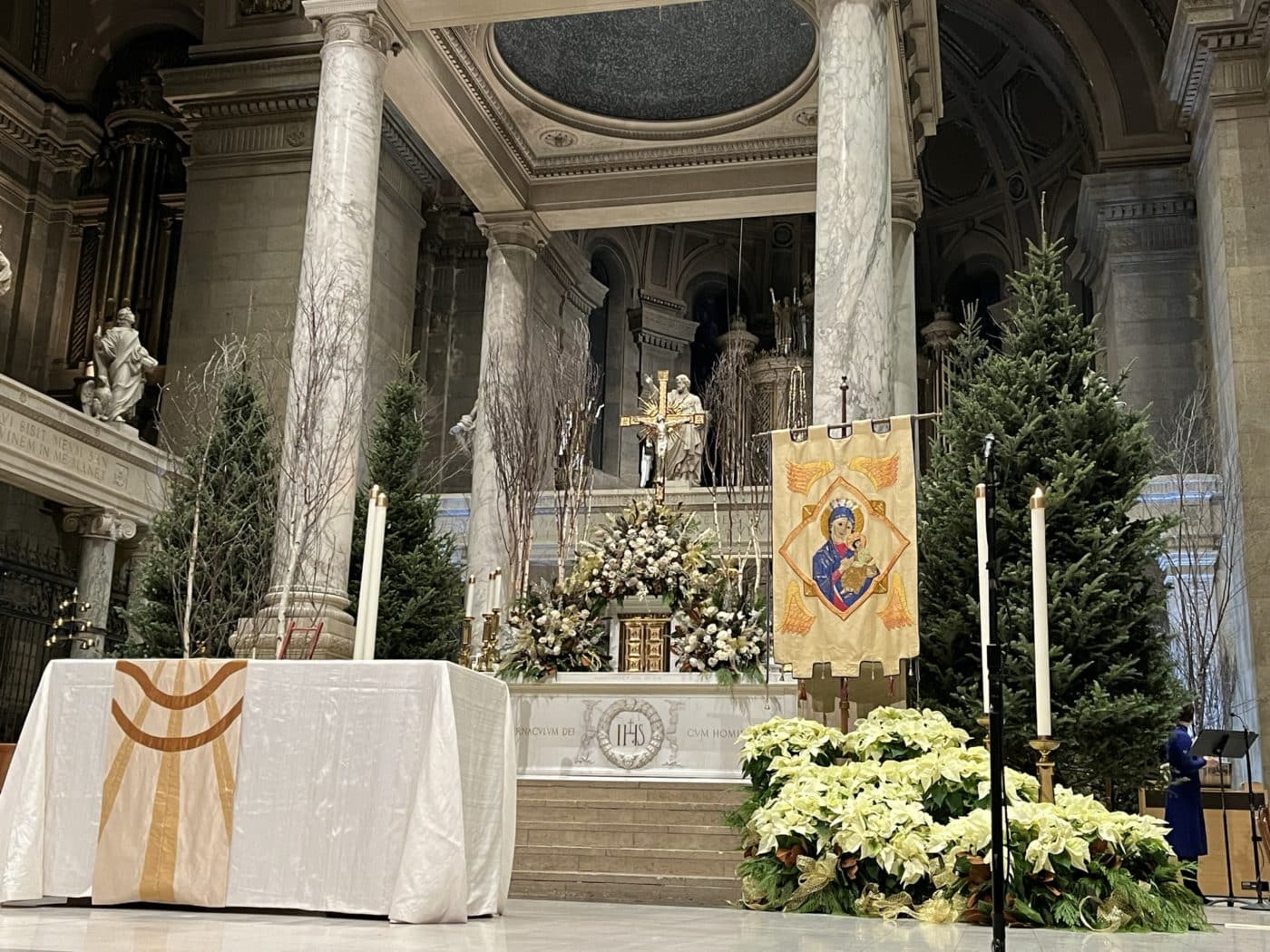 On Christmas Eve 1223, St. Francis created a live nativity scene in the small town of Greccio, some sixty miles north of Rome. Francis' intent was to encourage a renewed devotion to the mystery of the birth of Jesus which had fallen out of practice. Francis' biographer wrote that Francis preached a very moving sermon after which he fell in ecstasy before the manger, and it seemed to everyone present that the baby Jesus himself was present in the crib.
As a child I was very drawn to this story. Since we did not have a live nativity in our church, I decided to follow in the footsteps of Saint Francis and create one myself. So, for several years I gathered my siblings and cousins after Christmas Eve dinner in my grandparents' living room which had been set up as a stable to create a live nativity scene. We took some liberty with the story as there were too many boys and not enough girls. My sister, who is the youngest of us all, played the part of the baby Jesus. When everything was set, I called in the adults, and we all sang Silent Night together. Then my younger brother or I would sing the Adeste Fideles. That was the moment when tears would inevitably run down my dear grandfather's cheeks. He was a tall and stoic man with a great heart. We always finished the evening by walking to our local church right in time to see the baby Jesus being placed in the nativity scene right before the Midnight Mass.
Although we are not planning to create a live nativity in The Basilica, Christmas is particularly important to us and following in the footsteps of Francis, we want to create a worthy celebration of the birth of our Messiah. "For a child will be born to us, a son will be given to us; and the government will rest on His shoulders; and His name will be called Wonderful Counselor, Mighty God, Eternal Father, Prince of Peace." (Isaiah 9:6)
May we all be able to come before The Basilica creche this Christmas and be held in awe as if the baby Jesus himself was present.
As I have done for the past many years, I am asking you to help make our celebrations beautiful and moving by supporting our Christmas Liturgy fund. As you know, many people come to The Basilica for Christmas, and I am hoping that we can touch their hearts in the same way as Francis was able to touch the hearts of the people of Greccio. You can make your donation in honor or in memory of a loved one. Their names will be printed in the Christmas liturgy booklet.
On this 800th anniversary of the creation of the nativity scene in Greccio let us approach the Baby with great devotion and gratitude for this great and glorious mystery of Emanuel, God-with-us. And let us all implore the One who is the Prince of Peace to bring peace to our broken world.
Johan van Parys, PhD
Managing Director of Ministries & Director of Scared Arts