The University of St. Thomas Law Journal invites you to join our Fall Symposium as we explore opportunities to stand in solidarity with veterans who are impacted by the legal system.
We have curated an event designed to educate and inspire a variety of stakeholders including students, lawyers, judges, professors, veteran service organizations, and community members who desire to support veterans. Our esteemed group of speakers includes advocates, academics, mental health professionals, and veterans from around the country.
We hope you will join us on Friday, November 10th for this unique commemoration of Veterans Day.
Register
https://www.eventbrite.com/e/after-their-service-the-intersection-of-veterans-and-the-law-tickets-740941835977?aff=oddtdtcreator
Agenda
8:15am: Breakfast Buffet
9:00am: Welcome Remarks
Law Journal Editor Marshall Kelner
Dean Joel Nichols, University of St. Thomas School of Law
Professor Hank Shea, US Army Veteran, Vice-Chair of the Veterans Defense Project
9:15am: Panel 1— "Exploring the Model Veterans Justice Act and the Current Status of Veterans Treatment Courts"
Professor Julie Baldwin—American University
Professor Erika Brooke—University of Florida
Brock Hunter—US Army veteran, Co-Founder of the Veterans Defense Project
Ryan Else, moderator—US Army Veteran, Co-Founder of the Veterans Defense Project
10:30am: BREAK
10:45am: Panel 2 — "Native American Veterans: Acknowledging Their Service, Addressing Their Needs, and Learning from Their Restorative Traditions"
Professor Hillary Wandler—University of Montana Alexander Blewett III School of Law
Professor Kristine Huskey—The University of Arizona James E. Rogers College of Law
Professor David Grenardo, moderator—University of St. Thomas School of Law
12:00pm: BREAK
12:30pm: Lunch and Keynote Address—"Law School Veterans Clinics: Helping Veterans, Training Students, Improving the System"
Professor Judy Clausen—US Army Veteran, University of Florida Levin College of Law
Professor Alex Scherr—University of Georgia School of Law
1:45pm: BREAK
2:00pm: Panel 3—"Confronting the Prevalence of PTSD and Other Invisible Injuries in Returning Veterans and Searching for Restorative Remedies"
Professor Holly Christian—University of Detroit Mercy School of Law
Hector Matascastillo—US Army Veteran, Mental Health Professional, Crisis Negotiator
2:45pm: Concluding Remarks
Symposium Editor Marshall Kelner
Professor Hank Shea, US Army Veteran, Vice-Chair of the Veterans Defense Project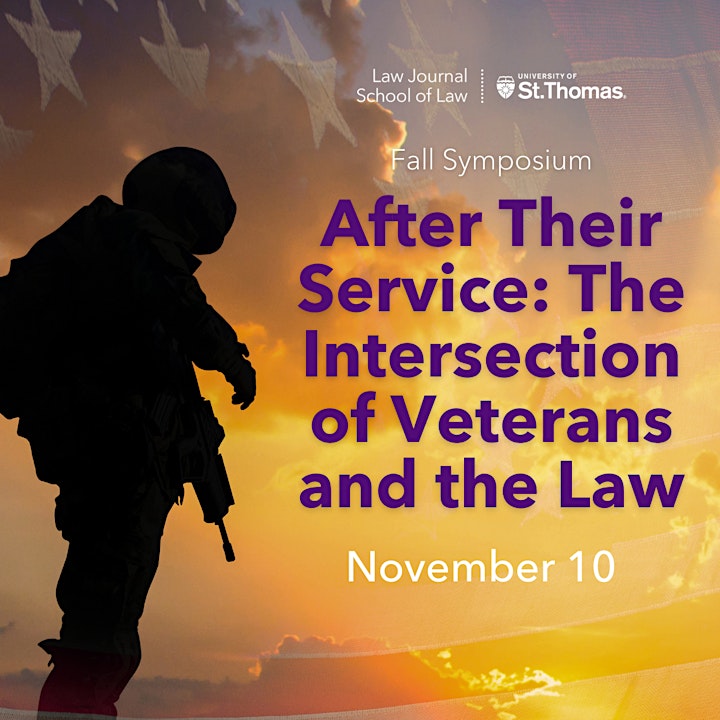 Saint Joseph Chapel, ground level Requests for a Mass Intention are available Monday-Friday either for the 7:00am Mass…