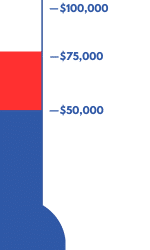 Multiply your gift today!
As of this week, almost 250 members of our community have made a new gift—reaching 79% of the Matching Gift Challenge!
We need your help to raise $21,000 to reach our $100,000 goal.
Each new gift will help us meet the $50,000 challenge to close the year-end fiscal gap by June 30.
Thank you to those who have already made a gift to support our vibrant ministries and services.