Lifting our hearts and minds to God
Sacred and liturgical music play an important role in the life of the Church. It speaks eloquently of the mystery of faith.
Openings in all voice parts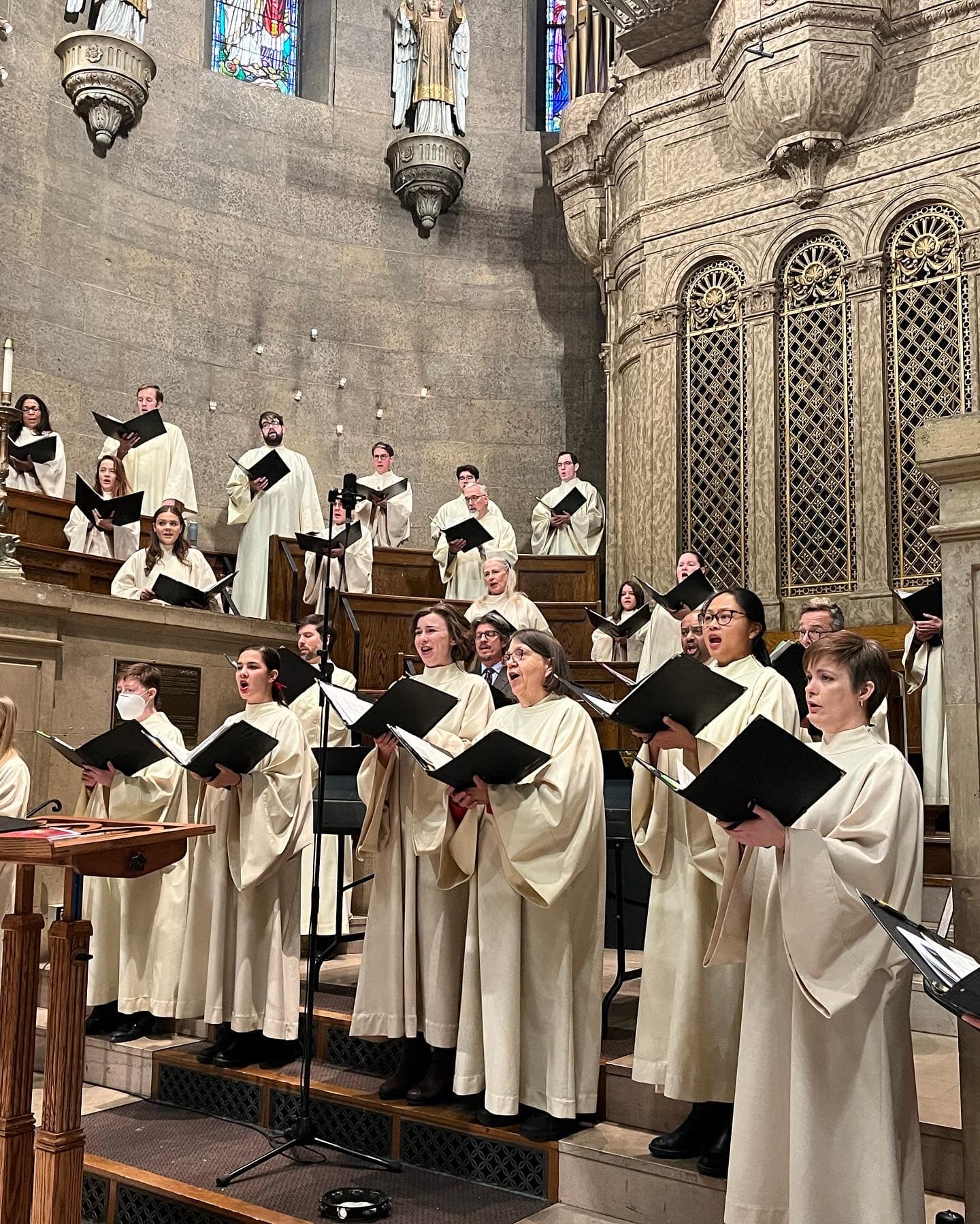 This volunteer choir provides choral music for our 9:30am Sunday Eucharist as well as on Holy Days. Its repertoire spans a wide range of genres and many centuries.
A 15-minute audition is required.
Policies for members of The Basilica Cathedral Choir:
No more than 4 absences (Sunday or Wednesday) in any given season
Season 1 - September thru January, Season 2 - February thru June
Choir sings for 9:30am Sunday Eucharist with an 8:30am call time
Rehearsal is Wednesday evenings, 7:00–9:00pm
Rehearsals begin immediately after Labor Day and continue until early June.
Archdiocesan events are part of the regular choir calendar: Rite of Election and The Basilica confirmation as well as other events.
Christmas includes The Midnight Mass and the 9:30am and noon Masses on Christmas Day.
Holy Week includes Holy Thursday, Good Friday3:00pm and the Great Vigil of Easter at 8:00pm on Saturday.
Easter Sunday includes the 9:30am and noon Masses.
Cathedral Chamber Choir
This sub-group of The Basilica Cathedral Choir provides leadership and occasionally sings repertoire meant for a chamber-sized group.
Openings in all voice parts
Chorus Cantorum: Cantors and Psalmists
Lend your voice in leadership to the hymns, songs, and responses of the liturgy or to the proclamation of the responsorial Psalm. This group of liturgical musicians gathers every other Wednesday from 6:00-7:00pm to prepare for music ministry.
Contact Sam for auditions.
First round audition: 
Please plan to prepare the following: 
Resume
A sacred solo that showcases your voice (in the style of Art Song or Aria: e.g., Schubert "Ave Maria;" appropriate movements from Handel's Messiah; Xerxes; et al.).  A Basilica accompanist will be provided—please submit your accompaniment score at least one week in advance of your audition.
Prepare the two psalm settings provided below.  You will be asked to sight-read one additional psalm at your audition of similar style to those provided here.
Second round audition:
Eligible cantor candidates move on to sing the responsorial psalm and communion psalm at a regularly scheduled weekend liturgy.
Cathedral Choristers
4th–8th grade (unchanged voice) members learn choral repertoire and the basics of singing. They are also introduced to the rich liturgical tradition of the Catholic Church.
Limited to 40 members
Rehearsals: Wednesday, 5:45–7:00pm
Choristers sing

once a month with The Basilica Cathedral Choir.
once a month as leaders of the liturgy
the noon Mass on Christmas and Easter. 

Tuition of $55.00 per semester. Scholarships available.
Voice checks are required
Cathedral Children's Choir
1st–3rd grade members learn good singing technique and liturgical participation.
Rehearsal: Wednesdays, 6:00­–7:00pm
Sing for mass approximately every other month.
Tuition of $50.00 per season.  Scholarships available
No audition, but voice check required.
Cherub Choir
Children ages Pre-K through K explore musical concepts through movement, Orff instruments and singing.
Based on the Kindermusik method. 
Rehearsal: Wednesdays, 5:30–6:00pm in the School Choir Room
Parent involvement is encouraged.
There is a tuition of $50.00 per season.  Scholarships available
No audition necessary
Junior Cantor Ministry
Young singers can participate in this ministry. Training is geared to each level of singer until they are ready to function as cantor or psalmist on their own.
Rehearsal: Wednesdays, 6:00–7:00pm prior to the liturgy junior cantors are scheduled to sing.
By audition or selection
Contemporary and World Music
Openings for all voice parts
Mundus is the Contemporary & World Music Ensemble at The Basilica of Saint Mary. The ensemble leads the 11:30am Mass twice a month from September through May, sharing sacred music of the Americas, Africa, and Asia with the mission of bringing music of the World Church to the Local Church.
A simple 15-minute voice check is required for placement in the ensemble.
Mundus Ministry Requirements:
A maximum of 4 absences (Sunday or Tuesday) in any given season
Fall Season - September thru January, Winter Season - February thru June
Mundus sings for 11:30am Sunday Eucharist with a 10:15am call time
Rehearsals on Tuesday evenings, 7:00–9:00pm 
Rehearsals begin after Labor Day and continue through late May.
Mundus sings the 5:30pm Christmas Eve Mass.
Holy Week includes the 7:00pm Holy Thursday liturgy.
Mundus sings the Easter Sunday at evening Mass.
Youth Choir
Juventus is our choir for young people grades 8 and up.
Lead music twice a month.
5:00pm Sunday Mass (September through May)
Once a month during the summer.
Rehearsal: Wednesday evenings, 7:15–8:15pm
Sing Solemn Vespers
The Basilica Schola Cantorum is a group of ten to twelve semi-professional singers who sing solemn Vespers on Sundays in Advent/Christmas, Lent/Easter and other select liturgical celebrations. Auditions are held annually during the summer. 
The Schola Cantorum is a semi-professional group that sings for vespers, Archdiocesan confirmations, and other special liturgies. Auditions held annually.
Taizé Ensemble
Leads contemplative and reflective music during Taizé services on the second Tuesday of the month at 5:30 p.m. from Advent through the Easter season. Rehearses seasonally as needed. 
Simple voice check required. 
Contemporary Music Ensembles
This rotating ensemble of singers and instrumentalists serves at selected Masses. Musicians are highly motivated, skilled, and capable of preparing music on their own.
Placement is by audition only. 
Translated from Latin, Missa Choralis literally means "Choral Mass."  This simple translation, however, only begins to illustrate the wide breadth and variety in voices, instruments, and ensembles that contribute to The Basilica's music series at the 5:00pm Saturday Mass of Anticipation. 
The Missa Choralis Series reflects the vibrant musical diversity of our vast region and global community while fostering the stewardship of musical arts—choral and instrumental alike. A rich variety of choral and instrumental musicians from many locales have visited The Basilica to share their inspired musical gifts, leaving behind a lasting artistic impression for many who come and listen. 
This program which was established in 1996 attracts artistic talent to The Basilica and gives artists the opportunity to present sacred art under the patronage of The Basilica.
Composer-in-Residence, Donald Krubsack
The Basilica Brass Ensemble, directed by Dr. Don Krubsack
Questions? Please Contact:
Patrick Schneider
Director of Music
Patrick Schneider started as the Director of Music in July 2023. He served as the Associate Choir…
More