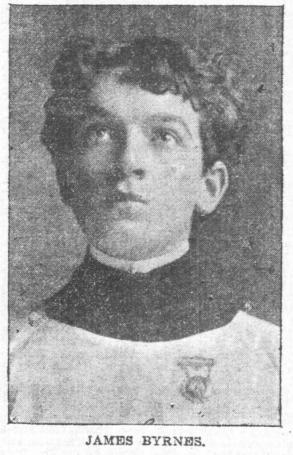 Martin Byrnes was one of the early settlers of Minneapolis. He and his wife had five sons and one daughter. One of his younger sons was known as "Master Jimmie, Boy Soprano." Master Jimmie had been singing soprano solos at the Church of the Immaculate Conception and also played the organ for the children's Mass. He was in much demand around the Twin Cities.
In 1899, Gertrude Haynes, producer of religious vaudeville called the "Choir Celestial," came to the church and persuaded the fourteen year-old boy to join her troupe, which, with his parents' permission, he did. He sang in 700 consecutive shows all over the country.
When he was older, he became manager, music director, and composer of the group. Byrnes would periodically come back to Minneapolis to visit his family. In 1917, a musical called "ODDS and ENDS of 1917"  opened on Broadway; James Byrnes was listed as composer.