A place of worship, refuge and peace.
More than just a beautiful building, The Basilica of Saint Mary is a gathering place for all those who pass through our doors. It's a center for the arts, and a place of refuge for the poor. It's a community committed to the growth and social well-being of the city. People of all colors, all economic backgrounds, people from suburbs, and from inner city neighborhoods stand shoulder to shoulder. Together, we travel on a journey of faith. We celebrate weddings, baptisms and funerals, Christmas and Easter, and weekend Eucharist.
Our vision for social outreach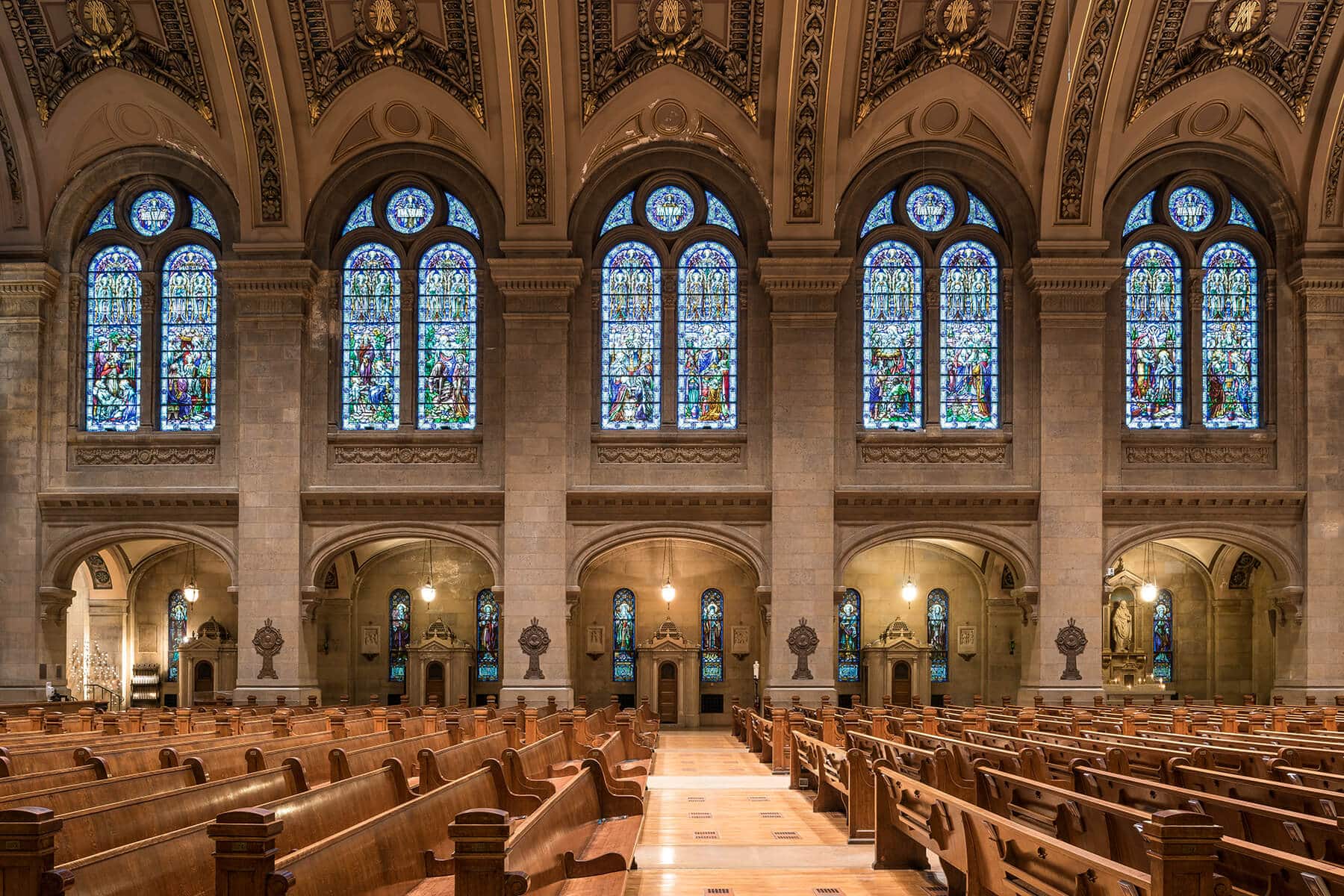 With over 6,500 households, we have an aggressive vision for social outreach. Our St. Vincent de Paul ministries offers new shoes or workboots, and has since 1986. We partner with Habitat for Humanity and Families Moving Forward, offer employment support, and help struggling families stabilize their lives through Pathways.
Explore the faith
We invite those of every age to explore and learn about their faith. Speakers from local colleges and universities offer opportunities for adults. We offer Bible Study for young adults, seasonal programming and more. Our John XXIII Art Gallery features the work of local, national and international artists. Music is available to all through the Minnesota Sinfonia and others who offer free and low cost concerts.
Learning about and nurturing our Catholic faith
At The Basilica of Saint Mary we prefer Faith Formation because it encompasses a broader approach. We offer a vibrant selection of programs for children, youth and adults, encouraging our parishioners and friends to continually develop, nurture, and live out our faith.
Get Involved — we need you.
What gifts can you share with our parish? It takes many volunteers in a variety of roles to make The Basilica's Faith Formation programs so successful. We welcome volunteers for one time, or all the time. Opportunities include preparing materials, teaching and assisting in the classrooms, planning Young Adult activities, being an RCIA sponsor, and many other roles.
If you are interested in helping in any capacity, please contact the Learning Office at 612-317-3414.
Serving One Another
Our lives and our faith grow, as we reach out to serve one another.
All are invited to participate in The Basilica's Employment Ministry.
For an intake appointment, please contact Janet Grove or call 612.317.3508.  Following the intake:
You will receive regular job postings from a variety of sources
You will receive notices of free workshops at The Basilica and throughout the Twin Cities area
You will be able to sign up to meet with Job Coaches who can help you with your job search
We look forward to working with you!
Employment Ministry members have access to:
Job coaches — Get one-on-one assistance with resume writing, interviewing, transitions, and self-assessment.
Free Employment Ministry workshops — Timely topics to help you find your next job. Registration required.
Community networking — Connect with Basilica members already employed in your desired career field.
Job leads notifications — Receive e-mail updates several times each week.
Lists of online resources — Access job boards, job search web sites and local government web sites.
Behind the Mask: Understanding Invisible Disabilities
On March 15, 2021 The Basilica Employment Ministry presented this free virtual workshop, led by Cindy Edwards and Annie Montemayor. The unique workshop was developed to:
Educate people on the most common invisible disabilities in the workforce today
Provide data correlating to the future workforce and invisible disabilities
Discuss how to build a culture of disability awareness and acceptance
Give resources on understanding when to refer, disclosure rights, privacy and options that protect people with invisible disabilities
Promote self-advocacy; helping people understand steps for requesting reasonable accommodations
Teach conversation skills for discussing invisible disabilities in the workplace and beyond
Watch a recording of the workshop
Employment Ministry Volunteer Appreciation!
Please enjoy this video shout out to the wonderful volunteers that make the Employment Ministry all that it is.
Get the support you need during your job transition:
You don't have to do it alone. Numerous organizations have excellent support groups and resources to help you find a job.
Resources for your job search:
We are called by Christ to respond to the mental health needs of our faith community members.
Do you need someone to talk to?
If you or someone you know is struggling with a mental health issue, we can put you in touch with someone who can help.
Contact Janet Grove.
The Mental Health Ministry recognizes that…
A person's religious faith and spirituality are part of the overall treatment and recovery process
Secrecy, shame, stigma, and denial are among the great problems surrounding mental illness
Mental illness causes great pain and anguish for the individual and the community
Education — of the person, the parish and our community — can alleviate some of this pain
Additional resources
Looking for a new way to pray? 
Prayer shawl ministers, experienced and novice, create beautiful shawls to bring warmth and comfort to people in many in life's transitions. Prayers of blessing, ("May God's grace be upon these shawls, warming comforting, enfolding and embracing…") are with each shawl. 
How do I recieve a Prayer Shawl?
If you or a loved one is experiencing a challenging time in your life, The Basilica community would like to support you through our Prayer Shawl Ministry.
Prayer Shawls can warm, comfort, enfold, and embrace you--creating a sacred place and a safe haven, for difficult times.
To request a Prayer Shawl, contact Wendy Caduff.
How do I make a Prayer Shawl?
If you are a seasoned crocheter or knitter or want to learn, join us!
Meets the 1st and 3rd Tuesdays of each month
10:30am–12:00pm, back in-person!
Join by calling Katie, 763.458.8679, or Jane, 763.479.1555.
Prayer Shawl ministry at home
Do you prefer to knit at home or can't make it to our meetings?  We're happy to drop off yarn and pick up finished shawls.  Call Jane, 763.479.1555 for details.
"Seek the well-being of the city to which I have sent you. Pray for it to the Lord. For in seeking its well-being, you shall find your own."
Experience God's Saving Presence
Sacraments of initiation
Baptism: becoming a Christian.
Confirmation: confirming your baptismal promises; both lead to the Eucharist.
Eucharist: gathering to be fed by the Word and by the Body and Blood of Christ.
Sacraments of Vocation
Marriage: celebrating the love between a man and a woman as a gift from God.
Holy Orders: hearing God's call to ordained ministry and to be of service to the Catholic community.
Volunteering
AIM: Access and Inclusion Ministry
AIM is looking for people with lived experiences with a barrier blocking or impeding worship, service, learning, or community life who will work with us to continue to educate our community. If you would like to participate in the work of the Access and Inclusion Ministry contact Janet Grove.